25 Best and Worst Commuter Cities in Oregon
The typical Oregon worker gets to the office in about 22 minutes, which is a few minutes faster than the national average of 25.2 minutes. But we found 25 Beaver State cities where workers commute an average of a mere 16 minutes, which works out to be nearly 10 minutes less than most Americans.
We also discovered that 65 percent of workers spend less than 15 minutes getting from home to the office and 88 percent make the trip in 29 minutes or less. This could be a result of a high percentage of telecommuters and carpoolers among the cities on our list.
Proudly display this badge on your site.
Get the embed code.
The amount of time your spend traveling to work and back can impact your quality of life in several ways. First and foremost, a long commute can increase your stress level. But even more than that, it can hurt your wallet by increasing your auto insurance premium. Likewise, a short commute may reward you with a more competitive auto insurance rate, and that's why we are highlighting Oregon's best commuter cities.
To create our list, we analyzed traffic data from the most recent U.S. Census Bureau survey and then narrowed our list down to cities in Oregon with a population of 5,000 residents or more at the time of the 2013 Census Survey.
How Commute Length Affects Auto Insurance Premiums
Click here to see the worst commuter cities in Oregon.
If you have a long commute, you are considered an increased risk by your insurance provider because there's a greater chance you'll be involved in an accident. As a result, you'll pay a higher auto insurance premium. So, when you're shopping for auto insurance and the agent asks how far you commute, it's important to give the agent an accurate estimate.
If for some reason your commute gets longer, your monthly insurance premium could go up by as much as $10 per month. To understand more about how the length of your commute may impact your auto insurance premium, contact your Oregon auto insurance company.
How Commute Length Affects Quality of Life
You may not give your commute much thought, but more and more research is being published that shows us just how bad commuting is for us.
Thomas James Christian of Brown University notes that every additional minute of a commute means there is a decrease in time spent on healthy activities, such as resting, exercising, and preparing meals.
The University of California Los Angeles and California State University Long Beach found the number of miles driven each day had a stronger correlation with obesity than any other aspect they analyzed.
Whether you're looking to minimize stress, save money, or both, let these 25 cities in Oregon inspire you to find a way to reduce your commute.
The 20 Best Commuter Cities in Oregon
---
#1 – Brookings
In addition to being the state's best commuter city, Brookings is also safe, friendly, and offers a comparatively low cost of living. It's situated on Oregon's southern coast, bordered on one side by the Chetco River and Port of Brookings Harbor, and on another by Harris Beach State Park. Brookings rather-isolated locale means many residents stick close to home for employment, and that's one reason why the typical commute time in Brookings is half the national average.
---
#2 – La Grande
La Grande is a vibrant city that's recognized as the educational and economic hub of eastern Oregon. It's located off Interstate 84, so travelling to nearby cities for work is convenient, but there's plenty of opportunity right in La Grande. The government, manufacturing, and education and health services are the city's top employment sectors.
Whether they work locally or in a nearby city, 92 percent of La Grande residents get to their job in 29 minutes or less. That's one of the highest percentages of any city on our list.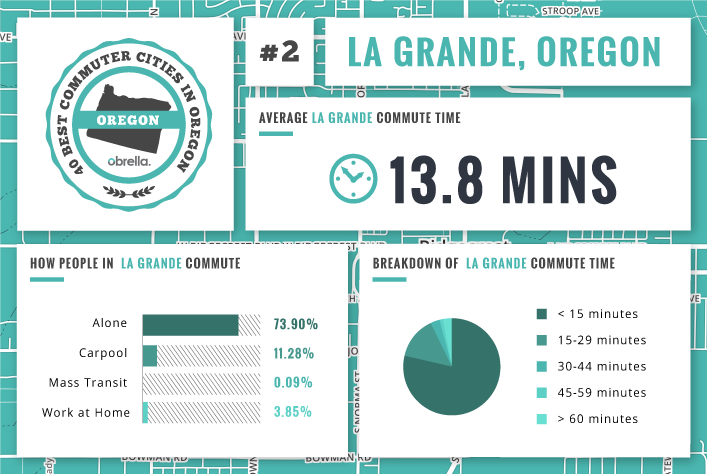 ---
#3 – Florence
Florence is located on the Oregon Coast, at the mouth of the Siuslaw River. It's surrounded by state and national parks, which means most people who live in Florence also work there. That could be why, at 83 percent, more Florence residents get to work in less than 15 minutes than residents of any other city on our list.
---
#4 – Pendleton
Pendleton has long been recognized as the center of economic activity in northeastern Oregon. It's situated at the intersection of two Interstates, and is home to the largest regional airport in the area. This location makes Pendleton a great place to launch a business, and a number of progressive initiatives and incentives encourage entrepreneurs to do so. The fact that Pendleton offers a commute that's 10 minutes faster than the national norm only adds to Pendleton's business-friendly appeal.
---
#5 – Baker City
Situated in the northeast corner of Oregon, Baker City offers boundless recreation opportunities. So it's a good thing the average worker doesn't waste much time getting to and from work. In fact, the typical Baker City resident spends a mere 14 minutes behind the wheel. When they arrive at work, they may find themselves at Alphonsus Hospital, Marvin Wood Products, or Ash Grove Cement, three of the area's largest employers.
---
#6 – Klamath Falls
Affordable cost of living, a variety of housing options, and good schools are just a few reasons the quality of life in Klamath Falls is enviable. It's also home to Klamath Community College and Oregon Institute of Technology, the only public technology institution in the Pacific Northwest. That makes Klamath Falls a great place to start or enhance your education.
Best yet, you won't get stuck in too much rush-hour traffic. In fact, 66 percent of locals commute for less than 15 minutes and 93 percent make the trip to work in 29 minutes or less.
---
#7 – Coos Bay
State of the art medical facilities, an abundance of community events, and plenty of outdoor activities are a few reasons families choose to settle in Coos Bay. Noted as the largest city on the Oregon coast, people tend to commute into this coastal town rather than out of it. That helps keep local commute times short. On average, 6 of 10 residents get to work in less than 15 minutes and 9 of 10 make the trip in 29 minutes or less.
---
#8 – Hermiston
If you're interested in launching a business, Hermiston might be the place for you to do so. In addition to robust business incentives, Hermiston has a skilled and educated workforce. If you're thinking about starting a new business in this booming city, make sure you have the right business insurance. 
Nearly half of the workers within 30 miles of Hermiston have at least some college education. And those who want to continue pursuing their degree can do so at Blue Mountain Community College or Eastern Oregon University.
Want one more reason to set up shop in Hermiston? The city's commute time is 10 minutes faster than the national average and 91 percent of residents get to work in 29 minutes or less.
---
#9 – Astoria
Situated in the northwest corner of Oregon, the commuter friendly city of Astoria is surrounded by water on three sides. That makes commuting to another city for work a bit tricky, and keeps most residents working locally. Over the last few decades, Astoria's waterfront district has gained a reputation as a creative haven that's serious about balancing growth with preservation. To ensure Astoria retains the quality of life that has made it so popular, the city even created a sustainable waterfront vision.
Whether locals head to the waterfront to work or another locale, they enjoy some of the shortest commutes in the state. On average, Astoria workers spend 35 percent less time commuting than most Americans.
---
#10 – The Dalles
The Dalles is a moderately sized community perched along the southern banks of the Columbia River. It has long enjoyed a reputation as a stable business community, and now it's becoming known as the region's new hi-tech hub. Organizations like the Mid-Columbia Economic Development District and the Small Business Development Center are helping further advance the city's state of the art businesses.
Whether you head to The Dalles for a job in tech at Google or one in healthcare at the Mid-Columbia Medical Center, there's a 7 in 10 chance you'll commute for less than 15 minutes.
---
#11 – Ontario
Small and filled with friendly people, the community of Ontario is located in the eastern part of the state. Interstate 84 and Highway 30 pass through Ontario, so residents can commute to nearby cities like Vale and Huntington for work, or head over the border to Idaho. If you're staying local, Ontario has a strong agricultural base, but it's also home to the Saint Alphonsus Medical Center, St. Luke's Medical Center, and several assisted living facilities. So jobs in healthcare are common. You can still get into technology and other important parts of the business market.
In Ontario, an impressive 14 percent of workers carpool. That's almost 50 percent more than the national average. Carpooling helps minimize traffic, which could be why most workers enjoy a commute of just 16 minutes.
---
#12 – Roseburg
Roseburg received kudos for its dynamic culinary scene and wealth of recreation options. While these are great reasons to visit, they're also convincing us to want to move there. Especially because we'd rather spend more time exploring the great outdoors and less time behind the wheel. In fact, more than half of Roseburg workers commute for less than 15 minutes and 90 percent get to their place of employment in 29 minutes or less.
---
#13 – North Bend
The coastal city of North Bend is part of the state's famed Bay Area, which includes the neighboring communities of Coos Bay and Charleston. Although it's surrounded by water, U.S. Highway 101 runs through North Bend, and that offers residents the option of commuting to other waterfront communities. The area's major industries include agriculture, commercial fisheries, forestry products, and tourism.
North Bend's rate of carpoolers is more than the national average, and that could be why commuters get to the office nine minutes faster than most Americans.
---
#14 – Newport
From the oceanfront resort district of Nye Beach to the historic Deco District, Newport offers a variety of mini communities that ensure you'll have plenty of fun places to explore in this coastal city. Like several other waterfront cities, tourism is a vibrant industry, but so is the production of wood products and commercial fishing. Whether you pursue a career on land or at sea, chances are you'll get to work in about 16 minutes.
---
#15 – Grants Pass
Grants Pass is located in the western part of the state, on the banks of the Rogue River. Easy access to Interstate 5, the Rogue Valley International-Medford Airport, and the Central Oregon and Pacific Railroad, all help make Grants Pass the perfect place for businesses to set up shop. Budding entrepreneurs have access to an array of business development programs here, as well as the Grants Pass Business Advocate, which makes small business development a high priority.
Couple the popularity of commuting by bike with the fact that more than 15 percent of the working population either carpools or telecommutes, and it's no wonder Grants Pass earned a spot on our list of Oregon's best commuter cities.
---
#16 – Medford
As a member of Southern Oregon Regional Economic Development, Inc. (SoREDI), Medford is serious about helping businesses succeed. Dedication to business development may be why Medford earned a reputation as the regional economic center for seven counties, and enjoyed steady growth over the last decade. Jobs in tourism, electronics, and communication-related industries are strong in Medford.
Whether workers chose to stick close to home or jump on Interstate 5 and drive to Ashland or Grants Pass for work, there's a 9 out of 10 chance their commute won't take longer than 29 minutes.
---
#17 – Corvallis
The award-winning city of Corvallis is situated in central western Oregon and is home to Oregon State University. In addition to being recognized as one of the country's best college towns, it's also received positive press for its green initiatives. In fact, Corvallis has more green buildings per capita than any other city and ranked first on the Environmental Protection Agency's national list of Green Power Communities.
Another way Corvallis helps protect Mother Earth is through the Corvallis Transit System. The fare-free transit system provides commuters with reliable transportation to their jobs within the city, as well as neighboring communities. As a result, Corvallis has the second highest percentage of mass transit users of any cities on our list.
---
#18 – Bend
The county seat of Deschutes County, Bend, is consistently praised as a mecca for tourists in search of healthy outdoor pursuits. As you'd expect, jobs in tourism-related industries are popular, but Bend is also generating buzz for its robust tech startup scene. According to a Kaufmann Foundation report, Bend is ranked as one of the Top 25 Metros for High-Tech Startup Density in the U.S.
Offering a progressive vibe and an average commute time that's eight minutes faster than the national average, and we're not surprised Bend's population has increased by roughly 50 percent over the last 10 years.
---
#19 – Prineville
Prineville is the oldest community in Central Oregon and it's also one of the region's most forward-thinking places, especially when it comes to commuting. We salute Prineville for having the second highest percentage of carpoolers on our list. At 23 percent, the city's carpooling rate is more than twice the national average and could be why 68 percent of workers get to their place of employment in less than 15 minutes. When they do, many find themselves working at Les Schwab Tire Company, Pioneer Memorial Hospital, or Woodgrain Millwork, a few of the area's major employers.
---
#20 – Madras
Highway 97 and 26 intersect in Madras, making it convenient for residents to commute to cities like Warm Springs and Prineville. But, most Madras residents choose to work right in their hometown. More than one quarter of the working population carpools in Madras, and that could help keep traffic under control as the city is expected to remain one of the state's fastest growing. Agricultural and manufacturing enterprises are strong, and the city is home to Bright Wood, the region's largest private employer.
---
#21 – Central Point
A lovely place to live and work, Central Point is located just a few miles from Medford, one of the state's largest cities. The quaint community has low crime rates, friendly neighborhoods, and two first-class bike paths that encourage locals to leave their cars parked at home and pedal to work. That may be why 93 percent of Central Point residents commute for 29 minutes or less.
---
#22 – Seaside
One of Oregon's most popular resort towns, the charming community of Seaside, is located along the state's southern coast. Due to its popularity as a tourist destination, roughly 20 percent of workers are employed in the food service industry, but telecommuting is also common. In fact, four percent of Seaside residents work from home. Of those who travel to get to the office, nearly 60 percent spend less than 15 minutes behind the wheel, and 87 percent make the trip in 29 minutes or less.
---
#23 – Ashland
Anchored by a vibrant downtown district that serves as the community's gathering place, Ashland is an Oregon gem that's visited by roughly 300,000 people annually. It's located along Interstate 5, which gives residents easy access to jobs in nearby Medford, if that's where they choose to go. But with all Ashland has to offer, most residents opt to work locally. Tourism and higher education are two of Ashland's biggest sectors, with light manufacturing also offering plenty of employment opportunities.
Ashland boasts a community-owned telecommunications utility that delivers fast, reliable Internet service via a fiber network. That could be why, at eight percent, Ashland has a greater rate of telecommuters than any other city on our list.
---
#24 – Hood River
From being honored as America's best adventure town, to being named one of the county's best beer towns, Hood River has earned a wealth of praise from the press. It's not just a tourist town; locals know it's also a fabulous place to call home. Clean air, safe streets, good schools and short commutes are just a few reasons the population of Hood River increased by 26 percent since 2000. If you make the move to Hood River, or already live there, there's an 84 percent chance your trip to work takes 29 minutes or less.
---
#25 – Eugene
Eugene has a history of leveraging new technologies to help grow and diversify its economy. Its most recent project is the installation of fiber Internet service that can deliver speeds of up to 1 GB. Fast Internet is one of the many infrastructures attracting tech sector business to Eugene's downtown.
---
Honored as one of the country's top 10 cities for livability, Eugene has also earned recognition as a bike friendly town. More people riding bikes means less traffic, and that's helped Eugene keep commute times low, despite its phenomenal growth.
Which are the Worst Commuter Cities in Oregon?
As a whole, the worst commuter cities in Oregon averaged a commute time of 27 minutes. That's roughly 11 minutes longer than the best commuter cities, but only two minutes longer than the national average.
Share this Image On Your Site
METHODOLOGY
To determine the rankings, Obrella analyzed traffic data from the 2013 survey released by the U.S. Census Bureau. Considering only Oregon cities whose population exceeded 5,000 at the time of this report, Obrella analysts sorted cities by average commute time and used other available data points to help visualize the breakdown of commute types and commute lengths. Please contact [email protected] with any questions about this report.
Free Insurance Comparison
Enter your zip code below to view companies that have cheap insurance rates.
Secured with SHA-256 Encryption