15 Best and Worst Commuter Cities in Tennessee
Proudly display this badge on your site.
Get the embed code.
The average time for commuting in the Volunteer State is 24.3 minutes, which is just under the national average of 25.4. That means that even some of the worst commuter cities in Tennessee don't look too bad compared to some other major metropolitan areas in the U.S.
The best 15 cities for commuting in Tennessee average 18.5 minutes, and 85% of workers can get to their jobs in under 30 minutes. We think that's pretty impressive, which is why we wanted to highlight these top performers.
To prepare these rankings, we pulled data from a U.S. Census Bureau 2013 survey (the most recent). We identified cities with 3,000 or more residents at the time of the survey.
Why should you care about commute times? Aside from long drives to and from work being annoying, they can actually lead to higher insurance rates. On the flip side, shorter commutes can save you stress and could actually save you money on your car insurance!
How Commute Times Affect Car Insurance Premiums
The more time you spend in driving your car to work and back, the higher your chance of getting into an accident. Auto insurance companies know this, and so you may pay more if you drive longer distances than other people like you.
In fact, shorter commute times could decrease your premium by as much as $10 a month. If you want find out if your own driving habits could be affecting your car insurance rates, start by contacting a Tennessee auto insurance company. For more information about car insurance rates in Tennessee, check out our guide to the cheapest car insurance in Tennessee and Tennessee auto insurance requirements.
How Commute Length Affects Quality of Life
Several studies have shown that lengthy commute times can lead to negative results:
For these reasons, it could benefit you to learn the best commuter cities in Tennessee. Finding ways to shorten your commute can improve your life and put money back in your wallet. Read on for Tennessee's 15 Best Commuter Cities.
The 15 Best Commuter Cities in Tennessee
---
#1 – Union City
Union City tops our list as the best for commuters in Tennessee. Serving as the main hub of the surrounding metropolitan area and with an average commute time of just 16.2 minutes, getting to work in Union City is virtually a breeze. In fact, over 65% of Union City commuters travel for less than 15 minutes.
Many Union City commuters work at one of its several manufacturing plants, including plants owned by Tyson Foods and Kohler. The Discovery Park of America has become a major city landmark since its 2013 opening. The museum features historical, science, and nature exhibits, children's galleries, and more.
---
#2 – Martin
Commute time for Martin residents is just a hair shorter than Union City's, at 16.3 minutes. Martin is home to the University of Tennessee at Martin and the Tennessee Soybean Festival. It doesn't take too long for Martin workers to commute. In fact, almost 90% of Martin commuters can get to work in 29 minutes or less.
Martin has just 11,473 residents, but its population is rising. Also rising is Martin's home appreciation rates, where the average home price is $92,600. What's more, 3% of Martin residents work from home, the most of any Tennessee city on this list.
---
#3 – Paris
Not to be confused with its French namesake, Paris, Tennessee, is nestled in the fork of the West Sandy and Tennessee Rivers. Paris industry is dominated by local part manufacturers, including automotive factories, and workers at the large medical community.
Workers in Paris enjoy short commutes, which average just 17 minutes. The city boasts its 1920s-style  downtown square and involvement in the arts.
---
#4 – Cookeville
Cookeville, "Hub of the Upper Cumberlands," is an educational anchor in Putnam County and home to Tennessee Technological University. Located on the Highland Rim, the Cookeville outdoors feature beautiful waterfalls, lakes, and mountain views.
Commute times in Cookeville average 17.1 minutes and nearly 90% of drivers can get to work in under 30 minutes. The city is experiencing positive job growth and has an employment rate at just 5.3%, which is less than the national average.
---
#5 – Dyersburg
With an average commute time of just 17.4 minutes, Dyersburg workers have it pretty good. Located about 80 miles northeast of Memphis, Dyersburg sits on the Forked Deer River. On top of low commute times, the city's low cost of living and home prices make it an enticing place to live.  
Dyersburg residents also seem to enjoy riding to work with each other. 13.7% of commuters arrive by carpool.
---
#6 – Greeneville
In eastern rural Tennessee sits Greeneville, named for Revolutionary war hero Nathanael Greene. It takes an average of 17.8 minutes for workers to commute to work in the city.
Greeneville rests in the Appalachian foothills, flanked by the Nolichucky River. It's the second oldest city in Tennessee.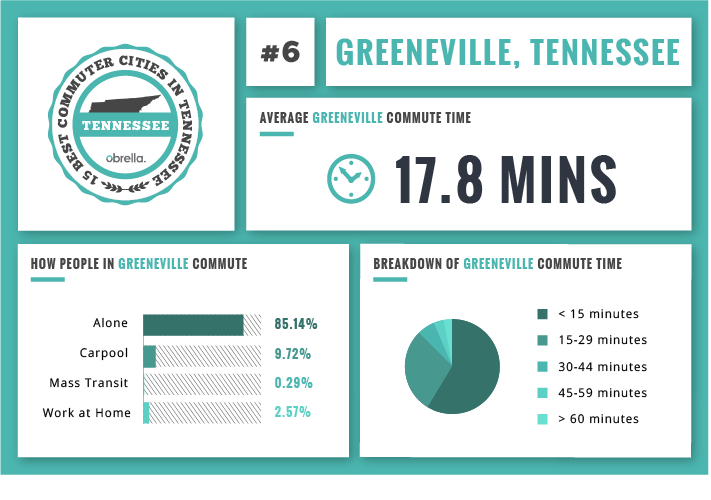 ---
#7 – Johnson City
Johnson City is a large, metropolitan center that spans three Tennessee counties. Commutes times average 19.2 minutes, and 85% of workers arrive on time in under 30 minutes. The city is home to several educational centers, including East Tennessee State University and Milligan College.
A low cost of living and low unemployment have earned Johnson City a spot on Forbes' "Best Small Places for Businesses and Careers" list.  
---
#8 – Cleveland
Many major manufacturers have set up shop in Cleveland, making industry strong in this southern Tennessee city. Luckily for Cleveland workers, the average commute time is just 19.2 minutes.
Residents and visitors can enjoy some of the city's many outdoor and recreational activities, including mountain hiking, kayaking the Ocoee river, and boating on Parksville Lake. Cleveland has a small town feel with lots to offer.
---
#9 – Athens
With average commute times of 19.2 minutes, commuters have time to get to and from work and still enjoy life. The historic city shares its name with the famous Grecian town, but Athens, Tennessee has a charm all its own.
Along with shorter commute times, Athens has a low cost of living and unemployment rate, just a few reasons it's a nice place to live.
---
#10 – Jackson
Jackson, Tennessee, is number 10 on our list thanks to an average commute time of 19.3 minutes. The city had the highest rate of mass transit use of these 15 cities, at 1.17%. Citizens can forgo their cars and hop on the Jackson Transit Authority's bus line.
It may be 70 miles east of Memphis, but Jackson still boasts a vibrant music scene. You can enjoy timeless sounds, from blues to Elvis-style rockabilly.
---
#11 – Ripley
Believe it or not, Ripley is home to the most carpoolers on this list, with 14.5% of commuters riding together. The city's 19.3-minute commute times aren't too bad, either.
Ripley is a city strong in black history and diversity, where the population is 47% African American. Its population is growing at 6% and cost of living is 19% lower than the U.S. average.
---
#12 – Crossville
"Golf Capital of Tennessee," Crossville features more than 150 holes across many courses. If you work in Crossville, your average commute time is 19.4 minutes.
The city is in the center of Cumberland County, planted atop the Cumberland Plateau. Crossville has several notable landmarks, like the Palace Theatre, open since 1938, and is flanked on the south by Cumberland Mountain State Park.
---
#13 – Lexington
Midway between Memphis and Nashville is Lexington, in Henderson County. The city isn't huge, with just 7,473 residents, but boasts a rich history and charming culture. Nearby Natchez Trace State Park provides outdoor sites and recreation.
Commuters in Lexington have an average time to work of 19.6 minutes.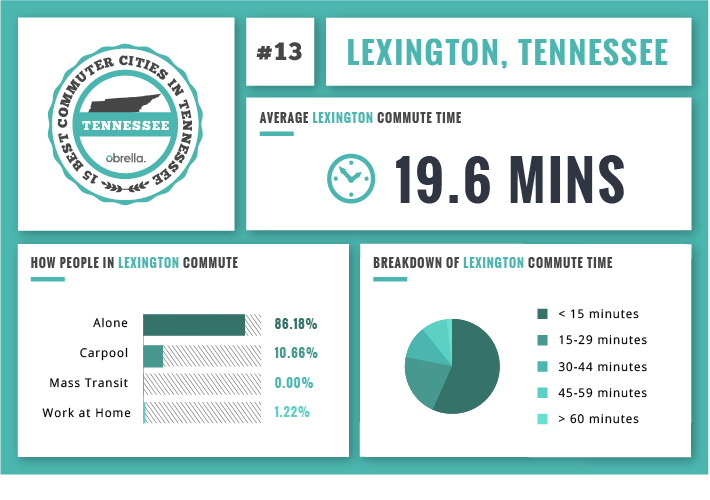 ---
#14 – Kingsport
With low unemployment and cost of living, Kingsport is a royal place to live. It's a larger city with a relaxing vibe. Kingsport features several festivals celebrating local culture, heritage, and folk music and arts. A 19.8-minute commute time isn't too shabby, either.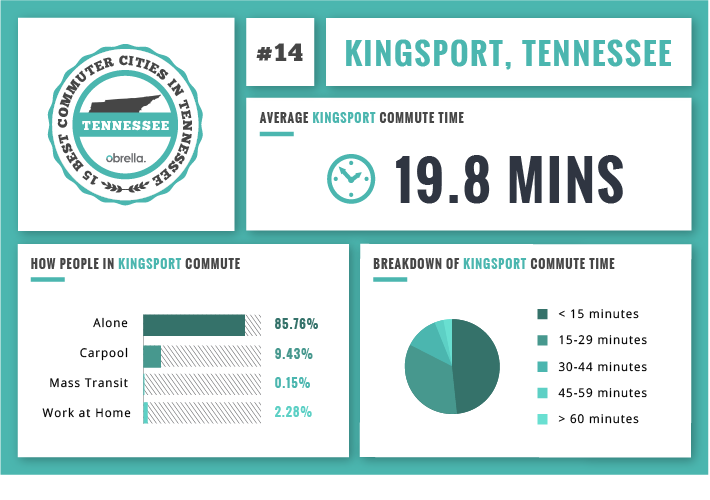 ---
#15 – Tullahoma
Rounding out our list of best commuter cities is Tullahoma, with a 20-minute average commute time. Tullahoma has a rich history, and it was founded in 1852 with a name derived from the Choctaw native language, meaning "red rock."
Like nearly all of the cities on this list, Tullahoma is a good place to live, thanks to a low cost of living, vibrant recreation and sites, and strong industries.
---
Enter your zip code below to view companies that have cheap insurance rates.
Secured with SHA-256 Encryption
15 WORST Commuter Cities in Tennessee
The 15 cities on this list represent the places in Tennessee where getting to work is more of a chore. Still, with the highest average commute time of 34 minutes, even the worst commuter cities in Tennessee aren't as bad as some U.S. locales.
Many of these cities are in rural areas, which can mean long drives to places of work, but it doesn't mean they're a bad place to live.
Share the Badge On Your Site — Copy and Paste the Code Below
Please include attribution to obrella.com with this graphic.
Methodology
To determine the rankings, Obrella analyzed traffic data from the 2013 survey released by the U.S. Census Bureau. Considering only Utah cities whose population exceeded 7,500 at the time of this report, Obrella analysts sorted cities by average commute time and used other available data points to help visualize the breakdown of commute types and commute lengths. Please contact [email protected] with any questions about this report.
Free Insurance Comparison
Enter your zip code below to view companies that have cheap insurance rates.
Secured with SHA-256 Encryption